ATX 550W Power Supply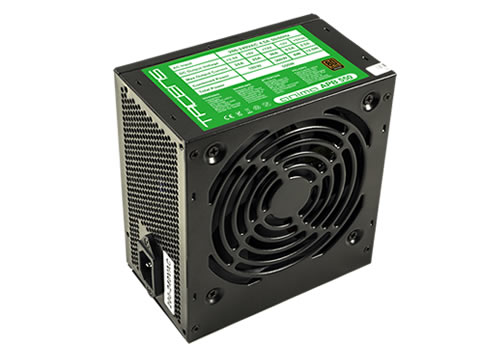 Features
The APB550 of Anima is an ATX 550W power supply with official 80PLUS Bronze certification, which ensures an efficiency of 85% when it comes to taking advantage of the energy used. It comes equipped with a 14dB ultra-silent Tacens fan of 12cm with intelligent thermal speed control and anti-vibration system, which offers optimal performance with the least possible noise.

Power
In addition to having an Active PFC system with 99% efficiency, the APB550 is equipped with the best single 12v rail technology for stable, powerful and constant performance.

Cabling
The cables of the APB550 allow total compatibility and have the ideal length to offer total freedom of installation. It has a 20 + 4 pin cable, 12V 4 + 4 pin, PCI-e 6 + 2 pin, 3 SATA cables and 2 PATA cables.

European Engineering
This ATX source is the product of the most demanding European engineering, with safety criteria certified internationally by renowned testing laboratories. It has been manufactured based on the directives and regulations required by the EU and is equipped with electrical protections and industrial grade filtering to offer the safest operation.


Downloads