MicroATX Minitower + PSU 500W


Design
The ACM500 is a MicroATX compact case with optimized structure for an easy and quick installation, and a sober and minimalist design that dispense unneeded ornaments to offer a professional and straight performance. It also has a front panel with high-quality brushed-aluminum type finish and a strong structure. 

Features
It has a fully optimized space for high-performance hardware and multiple storage devices, from a 5.25" optical bay drive to HDDs and 2 SSDs support. Its front panel also offers 1 x 3.0 USB and 1 x 2.0 USB slots, and Audio and Mic ports.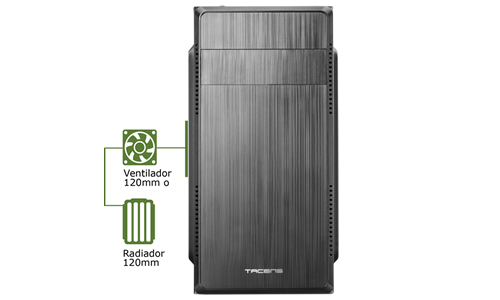 Cooling
Besides a prepared structure to guarantee a good airflow during its performance, the ACM500 has optimized support for an 80mm rear fan and 120mm side fan to boost the cooling of your case.


Energetic efficiency
The ACM500 includes a 500W power supply equipped with an 8cm TACENs cooling fan with smart thermal speed control and anti-vibration system. Prepared to grant an optimal performance to your case, it generates the less possible noise and provides a stable energetic efficiency.


Audio front panel installation guide
If you are having issues to set up the front audio of your case, we recommend you to download and install the audio drivers and follow the steps shown in the installation video. Watch the audio front panel installation guide

Downloads