Combo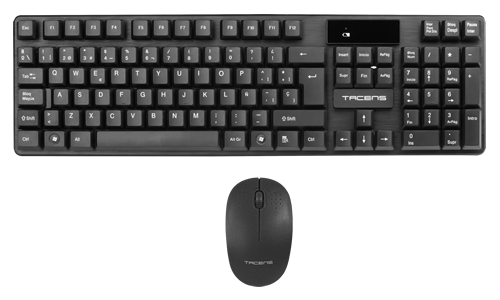 Wireless professional mouse and keyboard combo
The ACPW0 is a wireless mouse and keyboard combo with optimized design to offer the best performance without any cable needed. They are equipped with a compact structure and professional components for a precise use and extended durability. Besides, its wireless technology allows them to adapt to any kind of ambient and distribution with total comfortability.

Wireless accurate mouse
The ACPW0's mouse has a 1200 DPI optic sensor and a 2.4Gh NANO USB wireless receptor. It is equipped with HUANO switches for the best reliability and it adapts perfectly to your desk.

Wireless professional keyboard
Designed with an optimized pulsation for fast and accurate action at home or in the office, the ACPW0 keyboard offers professional performance for any situation, along with a brushed aluminum finish that will fit perfectly with any PC. Moreover, the wireless keyboard of the ACPW0 is the result of Anima's intelligent ecological engineering, also designed with energy saving measures and minimum pollutant materials.
Available with french or spanish layout version

Integrated wireless NANO USB receptor
The wireless receptor of the mouse is integrated in the peripheric's own body: the NANO USB is located next to its optical sensor. Take advantage of it to use your keyboard and your mouse without any cables.


Downloads

PRODUCT DATASHEET

MANUAL